Incheon Free Economic Zone
Gateway to Korea Wide Open to the World
/portal/en/ifez.do
Incheon Free Economic Zone


Gateway to Korea Wide Open to the World
Incheon is turning itself into the business hub of Northeast Asia. The city has a well-established transportation network including Incheon International Airport -- which was ranked first in airport service quality by the Airports Council for 10 consecutive years -- Incheon port and the international business complex. Boasting a highly effective business environment, the IFEZ offers almost everything from logistics and medical services to education and cutting-edge industries.
Designation Date

2003.8.11

Development period

2003 to 2022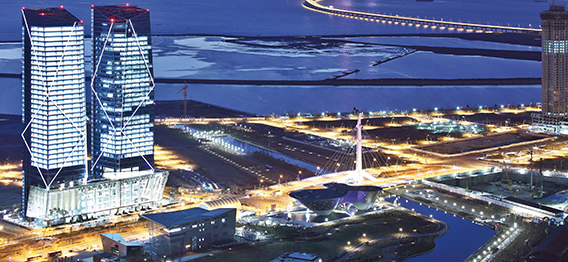 Advantages
Business hub that international organizations and companies chose
The thirteen international organizations located in Incheon include the World Bank, the Green Climate Fund, and the Association of World Election Bodies.
75 multinational companies from 15 countries have set up in Incheon, including Samsung BioLogics, Celltrion, Boeing, BMW and GM.
The most attractive city to enter East Asian market
Incheon has a geographical advantage in Chinese market access due to its close proximity to major cities in China including Beijing and Shanghai.
Incheon is within a 3 hour flight of 61 mega cities with more than 1 million population.
Center of logistics and transportation
Incheon International Airport, a Northeast Asian hub, was ranked first in airport service quality by the Airports Council for 10 straight years.
Incheon is a state-of-the-art port that can handle 12,000-TEU mega cargo ships.
The transportation network connects Incheon to Seoul and the metropolitan area within one hour.
Best living environment for quality life
Incheon is a city based on ubiquitous internet connectivity, where eco-friendliness and convenience coexist.
The city offers prestigious education services through renowned schools including New York State University, George Mason University and Ghent University of Belgium.
Incheon has various cultural festivals and tourism and leisure facilities.
Incheon Free Economic Zone Major projects
Songdo International Business District

53.36㎢

Bio-Industry

Develop a bio-front where international hospitals, bio industry·research complex are accumulated

Education·Research

Establish a groundwork for converging technology type industry innovation cluster with the accumulation of the global prestigious educational institution and research complex

Culture·Tourism

Establish a high-quality cultural resort by creating facilities such as an art center, venue for rock and popular music, leisure facility near the water, etc.

MICE Industry

Establish the second level of Convensia, create MICE complex and promote a global convention specialized in linking international organizations

Yeongjong International City

51.26㎢

Complex Tourism

Develop a Korean model of complex resort targeting family units and the tourism complex such as ocean leisure linking the Marina District

Aviation Distribution

Focus on supporting the Incheon International Airport to become the hub airport of the international parcels

Aviation Industry

The aviation industry cluster where educational institution and manufacturing·research facilities related to aviation are accumulated

Cheongna International City

17.81㎢

Location

Gyeongseo, Yeonhui, and Wonchang-dong, Seo-gu, Incheon

Project cost

65,965 billion

Business period

2003 to 2021

Planned population

98,060

International Work

Selects a theme of industry, such as finance and insurance, to attract the related business facilities (a division of roles through the creation of finance cluster with a wide area of Yeouido (functions as back-office))

Robot Industry

Create robot R&D industry·research complex and robot theme park

Manufactured Parts

A manufactured parts research·production district based on IHP, GM Korea site, etc.

Tourism Distribution

Create a large scale shopping distribution tourism complex to attract both domestic and international tourists
Major resident companies
[U.S.] Celltrion Inc.

Biopharmaceuticals manufacturing and research

[U.S.] GM Korea

CTT and R&D

[U.S.] Amkor Technology Korea

Manufacturing facilities and R&D center for next-generation semiconductor packaging

[Korea] CJ Systems

Global R&D Center