Gwangyang Bay Area Free Economic Zone
21st Century Logistics Hub
/portal/en/gfez.do
Gwangyang Bay Area Free Economic Zone


21st Century Logistics Hub
The Gwangyang Bay Area is located on the Pacific Ocean's main sea route. Based on this geographical advantage, the area provides business-friendly infrastructure with plentiful supplies of water and electricity. Centering on five districts themed on logistics, manufacturing, housing, tourism and other functions, the GFEZ aims to become an international trade city where new industries and cultural tourism harmonize.
Designation Date

2003.10.30

Development period

2004 to 2020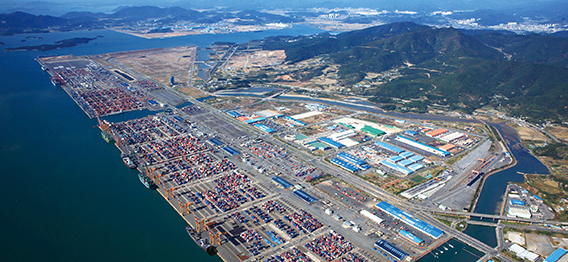 Advantages
Best shipping logistics base in Northeast Asia
The Gwangyang Bay Area is located on the world's largest China-North America sea route, as well as on the main sea routes of Northeast Asia and the Pacific Ocean.
The zone has the closest port in Korea to major ports in Northeast Asia, such as Shanghai, Hong Kong, Osaka and Kaohsiung, making it an ideal location for shipping transport.
The sea has a maximum depth of 41 meters, allowing the entry and departure of mega vessels weighing more than 300,000 tons.
The zone is positioned to be the starting point for overland transport between Northeast Asia and Europe, and between Northeast Asia and Central Asia when connected to the Trans-Siberian Railway, Trans-Manchurian Railway and Trans-China Railway.
Excellent industrial infrastructure
The GFEZ has an internationally advantageous port handling 284 million tons of cargo a year as of 2016.
It is equipped with stable industrial infrastructure on a large scale of industrial land.
The zone is adjacent to POSCO's Gwangyang Steel Mill and the Yeosu National Industrial District.
It nurtures 8,000 high-quality workers a year through 38 educational institutions nearby.
The GFEZ provides favorable living conditions with cyclic ecology passages and golf courses.
Gateway to Northeast Asia via ports, airports, roads and railways
Four airports in Yeosu, Sacheon, Gwangju and Muan are within 1 hour of the zone.
Metropolitan areas are reachable within 3 hours via five highways, eight roads and 18 local roads.
via KTX, Seoul is reachable within 2 1/2 hours.
Comfortable living environment
The area will provide international education through foreign schools. In March 2018, it aims to open an international campus of the U.K.'s Aberdeen University.
It has 634 general and smaller hospitals with more than 7,000 beds for comfortable medical services.
It has abundant tourism and cultural resources, including Yeosu Expo Ocean Park, Suncheon Bay Garden, nine national and provincial parks and 270 national treasures and cultural heritage sites.
Gwangyang Bay Area Free Economic Zone Major projects
Yulchon Distric

18.03㎢

Location

Yulchon-myeon, Yeosu-si, Jeollanam-do, etc.

Project cost

27,502 billion

Business period

1994 ~ 2030

Create a production hub by attracting the related industries, such as steel, machine, new renewable energy
Create an industrial land that connects with Yeosu Airport and Yulchon Harbor sites

Shindeok District

7.87㎢

Location

Haeryong-myeon, Suncheon-si, Jeollanam-do, Gwangyang-eup, Gwangyang-si, Jeollanam-do

Project cost

17,011 billion

Business period

2003 ~ 2027

Planned population

44,688

Develop a background support city through the development of large scale residence, commercial, and business districts
Create an eco-friendly downtown area to create a pleasant settlement environment

Hadong District

9.70㎢

Location

Geumnam-myeon, Geumseong-myeon, Hadong-gun, Gyeongsangnam-do

Project cost

23,544 billion

Business period

2004 ~ 2022

Planned population

25,520

Establish a global offshore plant cluster through the attraction of offshore plant industry and research organizations
Create a self-mocking production city through the development of leisure and background support
Major resident companies