Chungbuk Free Economic Zone
Hub of Eco-Friendly IT-Biotech Convergence Industry
/portal/en/cbfez.do
Chungbuk Free Economic Zone


Hub of Eco-Friendly IT-Biotech Convergence Industry
The CBFEZ is located at the center of Korea, which allows fast access to inland regions and a transportation network that runs in all directions. It is Korea's IT-biotechnology convergence industry hub, equipped with a cluster of facilities for solar energy generation, semiconductor manufacturing and biotechnology businesses. It is also turning itself into the hub of Northeast Asia's aviation Maintenance, Repair and Operations (MRO) industry.
Designation Date

2013.2.14

Development period

2013 to 2022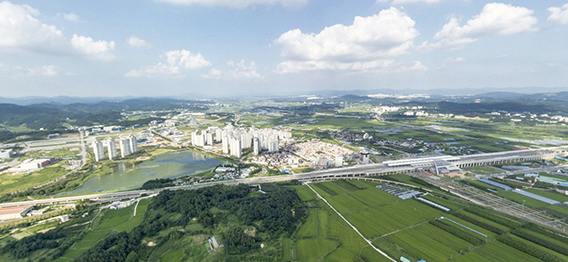 Advantages
Center of Korea's transportation
The zone has access to the Seoul metropolitan area in one hour, and other parts of the nation in two hours.
Seven high ways pass through the zone. Osong Station, the only station where the Gyeongbu Line intersects with the Honam Line, connects all parts of the country.
Cheongju International Airport, the hub of the central region, is nearby.
Cheongju International is the only local airport that runs 24 hours for freight air carriers.
The CBFEZ has access to major Asian countries such as China and Thailand within one to three hours.
It takes 10 minutes to get to Sejong City, the new administrative capital of Korea, and one hour to get to Pyeongtaek and Dangjin port, the center of marine logistics from the zone.
Fostering the future high-tech aviation industry
Hub of the aviation industry (RH Focus, Seongwoo Engineering, ENC Tech, Kascom, etc.)
Human Resources for the Aviation Industry(300 experts every years from 5 Uni. and 1 special high school)
Intergraded within Korea's biggest R&D centers centers around Cheongju International Airport(International Science Business Belt, Daedeok Research Town, Ochang Science Industrial Complex, etc.)
Korea's only bio hub with one-stop support for all industrial process
"Osong Bio-Health Science Complex" is Korea's only biotech complex initiated by the government. "Osong HighTech Medical Complex" has ideal human resources and infrastructure to develop new medicines and advanced medical devices. This zone also has a biomedical administration town where six state-run institutions in health and medical services, such as the Ministry of Food and Drug Safety, are located.
It has four major government research facilities and national biomedical facilities.
It can offer one-stop support for all stages of bio manufacturing, from clinical trials to approvals to manufacturing and retailing. It is home to more than 60 biomedical companies, 120 bio-related company-affiliated research centers and three universities specialized in biotechnology.
Chungbuk Free Economic Zone Major projects
Osong Biovalley

4.41㎢

Construct the medical hub city based on the IT, BT, and cutting-edge category of businesses
Attract bio-industry, such as preclinical medicine, medicine, and medical supplies manufacturing industry, etc.
Attract medical research development organizations, cutting-edge clinical test centers, research hospitals, etc.
Create the cutting-edge science hub through connections with organizations such as Osong Life Science District

Cheongju Aeropolis District

0.54㎢

Promotion as the specialized district for aviation maintenance and realization as the hub for aviation distribution convergence industry
Create an aviation industry cluster through the attraction of the core leading companies for the aviation industry
Major resident companies
[Korea] National Biobank of Korea

bio industry

[Korea]National Center for Medical Information and Knowledge

medical research

[Korea]National Center for Stem Cell and Regenerative Medicine

managing stem cell resources and research information

[Korea]Covidien Korea

Medical technology and services